Houston CTE News
Planning for the future
Mrs. Valerie Chandlers 7th grade class has began the process of picking a future career. Students were able to tour Houston CTE and see the programs available to them in high school that could lead to a career. Students were encouraged to participate in activities and ask questions about careers.
Career Bound
Houston CTE Business and Marking students began getting ready for a career by researching careers, creating a resume, and participating in a professional interview. These students are in Mrs. Dixie Edwards class.
Congratulations to Houston CTE Students of the 2nd 9 weeks
We are proud to honor students each 9 weeks for their hard work and dedication. The following students received recognition for their behavior and attitude during the 2nd 9 weeks.
AEST: Hayden Mann
Business: Amy Murillo
Construction: Gage Black
Culinary: Bailey McAlpin
Engineering: Maddox Clouse
Health Science: Saraya Crawford
Teacher Academy: Bri Davidson
Dixie Edwards CTE Teacher of the Year
Congratulations to Mrs. Dixie Edwards! She is the 2020-2021 Houston CTE Teacher of the Year. Mrs. Edwards has 21 years experience in education. We appreciate all her hard work and dedication!
Electrical Students serving the community
Students from the Electrical program are re-wiring the lights from the Houston Court House. Students are learning valuable skills while helping the community. The new LED lights will also be more energy efficient. Mr. Alford and his students are honored to help.
PACE Recognition
The Houston CTE would like to give a heartfelt thank you to the PACE Board. With Covid-19 struggles this year it was nice to be recognized for the effort we have put into this year. Again, thank you PACE for your support!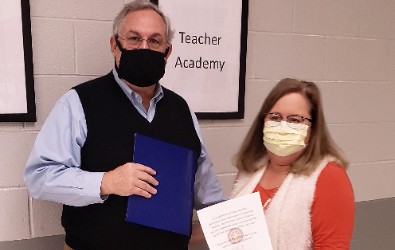 Houston CTE now a WorkKeys Test Site
The WorkKeys assessment system, developed by ACT, is the leading job skills assessment system in the nation. These assessments measure real world foundational skills critical to job success, regardless of occupation. WorkKeys assessments can provide reliable, relevant information about an individual's workplace skill levels.
Local industries use WorkKeys Scores to determine pay rate. Students who attain a Silver, Gold, or Platinum score are more employable and will make a higher wage.
MSU Speaker
Tonya Campbell of Mississippi State University came to talk to students about admission to Mississippi State and about the various degree opportunities at Mississippi State. Students were encouraged to ask questions about their interest and Ms. Campbell shared information about those programs with the group.
Houston CTE, students actively learning
Students get to learn hands-on in an interactive setting how to problem solve and become leaders.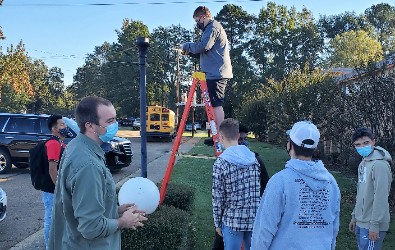 CTE Students of the 9 Weeks
Each 9 weeks the Houston CTE awards one student from each program the honor of student of the 9 weeks. The students are chosen on attitude, work ethic, and integrity. Congratulations to the following students:
Culinary Science - Jose Ramirez
Agriculture, Environmental Science, & Technology - Justin Flatt
Construction Core and Electrical - Jacob Townsend
Engineering - Tyler Hatfield
Business, Marketing, and Finance - Janasia Parker
Teacher Academy - Seninah Conway
Health Science—Angel Renfro
FAFSA Day for Seniors/Parents
Houston CTE hosted the FAFSA 2020 days on October 5th and 6th. Students were able to come in a receive assistance in completing the FAFSA (Free Application for Federal Student Aid). This application results in the PELL Grant, money for college that does not have to be repaid. If you missed this event, please contact Ms. Gates, Mrs. Ivy, or Mrs. Moore to set up an appointment. Don't miss out on this opportunity for your senior, make an appointment today. Call: 662-456-3748
Court Reporters in High Demand
Melissa Grimes and Leigh Pettit came to talk to Business and Marketing students about the shortage of Court Reporters and the need for young people to enter the field. Students learned that the career offers many benefits and high salary opportunities.
Houston CTE, preparing students for industry
Students are working hard to learn during the Covid19 restrictions....
Fire Safety
Jonathan Blakenship from the Houston Fire Department came to Houston CTE to discuss fire safety. Students were reminded of their fire safety skills and encouraged to keep a fire extinguisher at home. They also were encouraged to practice their escape plan, especially in the dark. He said that he often goes into dark houses where people have lost their bearings. Thanks to Mr. Blakenship for taking the time to come give guidance to our students!
Houston CTE presents, "the Real World"
A Real World (or "Financial Reality Fair") is an interactive financial literacy tool for high school students. It's a hands-on experience in which students identify their career choice and starting salaries then complete a budget sheet requiring them to live within their monthly salary while paying for basics such as housing, utilities, transportation, clothing, and food. Additional expenditures such as entertainment and travel are factored in as well. Students were very involved in The Real World. Madison Berry commented, "I'm going home to give my mom and hug for keeping up with all this, I'm not ready for the real world." And many students were upset when they discovered that taxes weren't an option. All we can say is, Welcome to the Real World!

Teacher Academy/Educator's Rising
Students Shine at State Competition in Hattiesburg, MS
Congratulations to the following Teacher Academy students for placing in Educators Rising state competition at William Carey University.

Sydney Freeman- 2nd place in Impromptu Speaking

Kitra Walker- 5th place in Impromptu Lesson

Addy Ball- 1st place in Exploration of a Non-Academic Teacher

Jaquashia Pratt- 1st place in Impromptu Speaking

These students will advance to Nationals in Washington, DC this summer! Very proud to have them represent Houston"s Career & Technical Education Center!
Health Science Students Sponsor Heart Health
Health Science Students were on hand Friday, February 14th, at the Houston High School Cafeteria during lunch shifts to provide heart health screenings. Health Science students saw over 90 students during the lunch shifts. Their purpose was to promote heart health and healthy habits.
Construction students tour industrial technology at msu
Students in the Construction/Electrical class had the opportunity to tour the Industrial Technology Program at Mississippi State University. Mickey Giordano, instructor at MSU, gave students a tour of the program and discussed the job outlook for students who take Industrial Technology. Students were given a campus tour as well.
DECA Students compete at District
We are proud to announce the following students placed in their category at the DECA District competition. They will now move forward to compete at the state level in February in Vicksburg.
Alyssa White - 5th place, Kendreus Davidson - 2nd place, Andrew Netterville - 2nd place, Trinity Buggs- 1st place, PJ Cooper- 1st place, Oliver Franklin-2nd place, Brian McAlpin - 6th place, Nathan Shoemaker- 1st place, Sarah Brassfield - 1st place, Katie Hill 1st place, Malana Shettles - 4th place, Keonte McIntosh - 3rd place, Aniston Criddle - 2nd place, Lidzee Jo Mixon - 2nd place, Kaliyah Prophette - 1st place, Yasmin Ruth - 6th place, Jessica Torres - 2nd place, Juiliana Gonzalez - 4th place, Janeia White - 3rd place, Ramaiya Armstrong - 4th place, Amy Murillo - 3rd place, Harley Grimes - 2nd place, Jonathan Fowler - 4th place, William Vance - 4th place, Zalexus Actkinson - 2nd place, Kaitlynn Murphree - 2nd place, Selena Longino - 4th place, Makinzi Moore - 4th place
Houston CTE Students of 2nd 9 Weeks
Jermany Pannell - Agriculture, Johnathan Fowler- Business, Hoyt Smith - Construction, Rae McGregory- Culinary, Gibson Caulder -Engineering, Michael Ann Chandler- Health Science, Alyssa Haire- Teacher Academy
Jermany Pannel has top score for the State of Mississippi
Congratulations to Jermany Pannel in scoring the highest in the state on her State Concepts CPAS Test. Pictured here with her instructor Mrs. Karen Cook.
The AEST Concepts placed highest in the state!
If you see/teach one of these kids they deserve a congratulations! They made the highest scores in the state on their State CPAS test for Concepts of AG Science. Mrs. Cook is their instructor, and she and the students worked hard this semester for this achievement.
AEST AG Business II Class also placed highest in the state!
These students scored, as a group, the highest on their state CPAS test. We're so proud of them! Congratulations guys!
Incentive Day!
Students who scored well on their 3rd common assessment were treated to a day of fun and games which included refreshments. The students worked hard to earn this day of fun, which we had just before we were out for Thanksgiving Break.
Health Science Students Hard at Work
Mrs. Tara's Health Science Students are learning about keeping a sterile area by "operating" on a pumpkin wearing their PPE (Personal Protective Equipment). They have also began shadowing at Trace Regional Hospital and are touring NMMC in the next few weeks.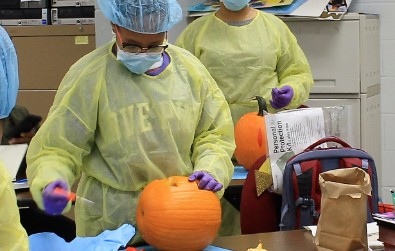 Students of the 1st 9 Weeks
Houston CTE celebrates the achievement of our students. Each 9 weeks we will select students who are high achievers both in academics and in attitude. Congratulations to these students for this honor. They will be having lunch today with Dr. Tony Horton.
Happy Bosses Day!
Dr. Tony Horton is a great leader, and we are proud to have him as our boss. Wish him happy Bosses Day if you see him around today!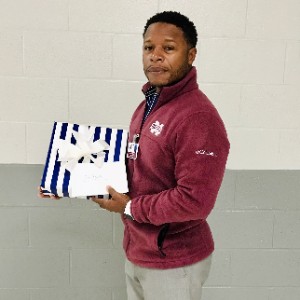 Culinary Class Visits Seafood Market
The Houston CTE Culinary Arts II Class visited the Ocean Fresh Fish Seafood Market in Tupelo, MS to learn about how to safely handle and prepare fresh seafood. Chef Neville and Feather Burns of Woody's Restaurant help make this possible. The students learned how to fillet a whole Red Fish and Speckled Trout. Instructor Joan Parks and her students enjoyed the gumbo that was prepared for them to sample.
2019 College Day
Students were able to visit with local colleges and universities to discuss majors, financial aide, housing, meal plans, and much more during the 2019 College Day at Houston CTE. The Houston and Houlka Seniors and the Houston Juniors were in attendance.
Safety Training
Jonathan Blankenship spoke to students about fire safety in the home and in the workplace. He discussed the different types of fires and the different types of fire extinguishers. Houston CTE is grateful for community members willing to help teach our students the importance of safety.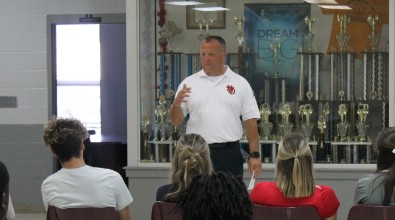 Houston CTE Health Science Career Fair
Houston CTE offered parents and students the opportunity to meet with local people who are in the health care industry and with local college and university representatives who offer health care programs. Houston CTE is offering a health care tract to help students gain admission into these highly competitive programs. If you were unable to attend, please contact Houston CTE and we will provide you with information offered at the fair.
High CPAS Scores
This year Houston CTE had students who worked hard and made high scores on the Mississippi CPAS test. The students represented the school well in making some of the highest scores around. Thanks to the students who make it happen, and the instructors, without whom this would not be possible.
Dr. Tony Horton
We recently honored our CTE Director, Dr. Tony Horton, with a reception for earning his Doctorate of Education from Mississippi State University. Dr. Horton was greeted by faculty and staff of Houston School District, along with many people from the community. Congratulations Dr. Horton for this great honor!
The Real World at Houston CTE
Students participated in "The Real Word" at Houston CTE. Students were given a career and a salary, with a family situation, and they were expected to pay their "bills" for a month. The "bills" included taxes, transportation, childcare, housing, entertainment, communication, and many others. Blake Long, student, said "I've learned that I had better be careful with my money if I want to be able to pay my bills."
DECA Students Attend Conference
Business and Marketing students attended the State DECA conference in Jackson Mississippi on February 14-15, 2019. Students participated in Business and Marketing events along with Hospitality and Tourism events.
Houston CTE with HHS present a Career Cafe
During lunch students were given the opportunity to meet with local business and industry to talk about careers.
Electrical Skills/Employment Skills
The Construction/Electrician Class has been busy applying the skills they have been learning. Students designed, measure, cut, wired, and displayed their work in class by making this class sign. They used electrical skills along with measuring, math, mechanization(sigh blinks), and construction.
FFA Students EXCEL
The following students placed in FFA Federation Contests last Friday:
DECA Competitors Win Big
The Houston CTE DECA Chapter (Business and Marketing Class) competed at the district competition at ICC Belden Campus, with many students placing in their areas.
1st place in Travel and Tourism: Kaitlyn Murphree and Zalexus Actkinson
3rd Place in Entrepreneurship: Paige Kilgore
3rd Place in Business Law and Ethics: Nathan Shoemaker and Dean Blansett
3rd Place in Quick Serve Restaurant Management: Janeia White
3rd Place in Hospitality Services: Aniston Criddle and Lindzee Jo Mixon
5th Place in Hotel and Lodging Management: Haylee Walters
5th Place in Apparel and Accessories Marketing: Alyssa White
5th Place in Retail Merchandising: Juilianna Gonzales
5th Place in Sports and Entertainment Marketing: Julius Bell and Gage Harrington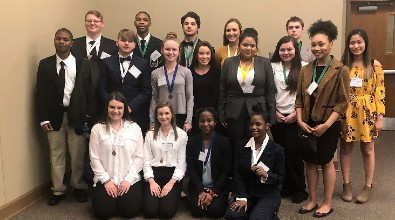 Culinary Students Hard at Work
Culinary students enjoyed the season with designing and building Gingerbread houses.
Environmental Science Class hosts Speaker
Mrs. Debby Carnathan of the Chickasaw County NRCS spoke to the Environmental Science l class of the AEST Program about you the importance of protecting our soil and how soil texture affects land usage.
FAFSA Completion Day at HCTE
Mrs. Ivy and Mrs. Moore hosted a FAFSA Completion Day for seniors with representatives from ICC Financial Aide Marty Cooper and Terry Bland on hand to help parents and students with any questions they had. The event lasted from 8 am to 5 pm. If you were unable to attend, please feel free to contact Mrs. Ivy or Mrs. Moore at Houston CTE to schedule an appointment. The FAFSA is completed on-line and is the way students can receive the federal pell grant. A grant is money that will not require repayment. Most who attended received the full pell grant, which is over $6,000.00 per year.
Veterinary Student Visits Animal Science Classes
Alex Moore, third year student at MSU College of Veterinary Medicine, came to speak to Mrs. Cook's class about what it takes to get into vet school and what to expect when you are a vet student. She talked about the different fields of vet science, what is required of each, and how to specialize in vet medicine. Moore also encouraged students to form good study habits in high school so that they can be successful in college. She also talked about the struggles of time management, and the dedication it takes to become a veterinarian.
Houston CTE Hosts College Fair
Houston CTE hosted it's yearly College Fair on September 11, 2018. Fifteen colleges from all across the state and one from Alabama along with representatives from military merged together at CTE to offer students and opportunity to ask questions about options for when they graduate from Houston and Houlka High Schools. Students were able to visit with representatives and ask questions about things such as financial aide, housing, scholarships, etc. Mrs. Ivy stated, "We like to give students this opportunity to give them a better understanding of what they will face post-high school."
Health Science Students help screen sight and hearing at HLES
Mrs. Earnest's class performed hearing and sight tests at HLES. Health Science students were first trained in how to perform the tasks, and then were responsible for screening students. The true "hands-on" learning will benefit these students as they pursue a career in the health care industry.
CTE Classes visit Vance Farms
Several classes from CTE recently took a field trip to Vance Farms in Thorn, MS. Students saw first hand the means of running a business. Harvesting both sweet potatoes and beans for the local market, as well as far north as Canada, Vance Farms must follow the procedures, rules, and regulations of OSHA Certification, GAP, and FDA to name a few. Students also received information on the nutritional values of a sweet potato, and especially its significance in the push for a healthier society. Last, but not least, farm and workplace safety was discussed. All in all, the day was a success and allowed students to participate in hands-on learning experiences that will impact learning for a lifetime!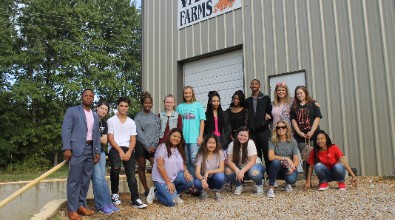 Solar Car Receives Donation
Representatives from Natchez Trace Electric Power Association came by and presented a donation from TVA (Tennessee Valley Authority) to Mr. Jay Alford that will be used to help fund the trip to compete in the Dell Winston Solar Car Challenge this summer.
Houston CTE Honored at ICC
Houston CTE students were honored at ICC for their high scores on the CPAS state test. These students received recognition as well as opportunities for scholarships. Congratulations students and instructors for a job well done!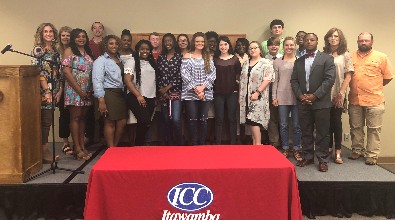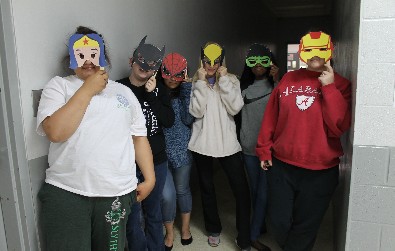 Teachers are getting into the spirit of testing.
Houston CTE Instructors and Staff are trying to inspire students to succeed on the CPAS by having a CPAS spirit week. The idea is to give the kids a smile during crunch time right before the tests, and help them remember to do their best.
A Taste of "The Real World"
"The Real World" came to HCTE on February 13, 2018. Angie Abrams and Erika Cooksey from Mississippi State University Extension Service came Thursday to introduce students to "real world" money issues. During the event students learned to budget money on expenses such as Housing, Transportation, Entertainment, Child Care, and even unexpected expenses. It was amazing how students learned the expense of taxes, and how they wanted to bypass the tax station.
FFA Students Visit the Capitol
Senator Russell Jolly and Representative Preston Sullivan visited with Future Farmers of America from Houston, at the Capitol on Wednesday, February 21, 2018, following their legislative breakfast.

Houlka Students Tour HCTE
Students from Houlka were on campus Tuesday to learn what Houston CTE has to offer. They toured our programs to determine if they would like to attend HCTE next fall. Shown here is Demetria Shephard telling the students about our Engineering and Robotics Program. They also toured Construction (Electricity), Health Science, and Business.
HOSA Students Compete in Orlando, FL
HOSA (Health Occupations Students of America) students from Houston CTE placed 1st at State HOSA Competition. They went to Orlando, FL this summer to compete in the International HOSA Competition. Their skit included a mosquito, a patient, her friend, a nurse, and a doctor who prompted the discussion for the CDC hazard Zika Virus. The students wrote and performed this at the state and national level. Students from left to right: Stacy Gillispe, Lexie Hooks ,Wendy Hillhouse, Caroline Blakenship, and Sharia Moore. These students will receive scholarships as a result of their success.
Farm Safety Day at Houston CTE
Mr. John Hubbard, representative of Farm Bureau Insurance, came to speak to students about farm safety. His presentation included electrical safety, 4-wheeler safety, shop safety, and farm equipment safety. His goal is to present the importance of being safe in the classroom, lab, as well as at home. This goes along well with the safety curriculum in each CTE class. Safety is our top concern!
Houston CTE Women in Science and Technology Conference
ffa members visit capitol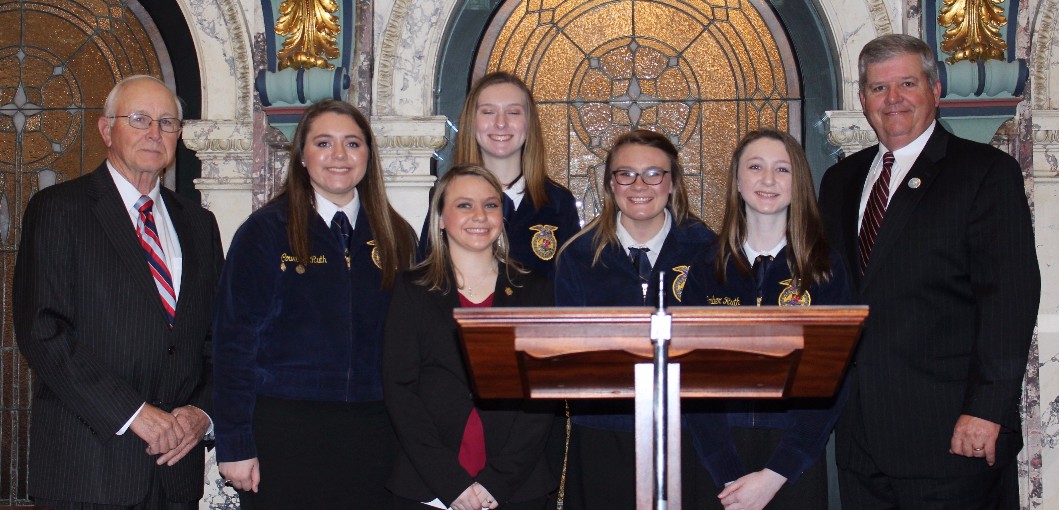 Senator Russell Jolly, (right), and Representative Preston Sullivan, (left), visited with FFA members from Houston at the Capitol on Wednesday, February 22, 2017. Standing left to right are Courtney Ruth, Mackenzie Huffman, Michael Ann Chandler, Amber Ruth and (in front), advisor Shelby Aulds.
Houston Solar Race Team
Promotes Movie Premier

Greg MacGillivray, owner of MacGillivray Freeman Films; Houston High School seniors Hunter Moore and Andrew Mitchell; and Chris Selwood, event director for the Australia Bridgestone World Solar Challenge, attend the early screening of "Dream Big: Engineering Our World."
The Houston Solar Race Team (HSRT) at Houston Career and Technology Education Center (CTE) has made its mark nationally and worldwide. After winning numerous racing titles and being featured on Mississippi Public Broadcasting's Mississippi Roads, the Houston Solar Race Team now has made it to the big screen.
MacGillivray Freeman Films' Dream Big: Engineering Our World opens globally in theatres Feb. 17, 2017. Members of the team are attending movie premiers in four different states to publicize this film that was created in partnership with the American Society of Civil Engineers to promote engineering.
The HSRT has a part in the movie, as solar car races are featured in the film. In fact, the Houston Solar Car will be on display at the Smithsonian in Washington, D.C. this week for the screening.
Keith Reese, HSRT manager, along with students, Hunter Moore and Andrew Mitchell, and team members B.B. Turman, Donna Turman and Anita Ellison were in New York City for the early screening on Feb. 14. They are traveling to Washington D.C. for the global opening at the Smithsonian IMAX theatre Feb. 17.
Other team members and parents will travel to Chattanooga, Tenn., Birmingham, Ala., and Huntsville, Ala., Friday, Feb. 17, to promote this film.
CTE Offers Financial Aid
Parents, do you have a student applying to college? If so, the Houston Career and Technology Education Center (CTE) can help you apply for financial aid.
CTE recently hosted a scholarship/grant workshop. Parents, students and grandparents received information on how to complete the FAFSA in order to receive a Pell Grant (income based) as well as information on how to apply for scholarships (merit based) at the event.
CTE staff is available to help anyone who was unable to attend the workshop. Call (662) 456-3748 to set up an appointment.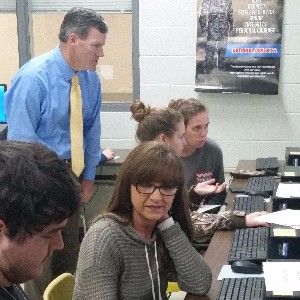 HSD Floats Place in Christmas Parade

Houston CTE Hosts College Day
Houston Career and Technology Education Center (CTE) has a goal to create a college-going culture among its students. As an endeavor to reach this goal, Houston CTE hosts a "College Day" each year to inspire and support students in their pursuit of post-secondary education. Colleges and universities from all over Mississippi were represented at this recent event October 7, at Houston CTE.
Recruiters talked to juniors and seniors about preparing for college, including housing, financial aid, scholarships, and college majors. Students were excited to learn about the different opportunities that await them after high school.
Houston CTE Students Participate in National FFA Marketing Plan Career Development Event
INDIANAPOLIS – Members of the Houston FFA Chapter were one of 31 teams participating in the National FFA Marketing Plan Career Development Event (CDE). The event was held in conjunction with the 89th National FFA
Convention & Expo in Indianapolis. Mackenzie Huffman, Anna Rucker, and Courtney Ruth competed with 90 other members from across the country. The team, led by advisor Karen Cook, was awarded a Bronze emblem.
Members of the top four national winning teams received cash awards to recognize their success in the event. The cash awards and the marketing plan event are sponsored by Bunge North America. Bunge North America takes great pride is sponsoring the Marketing Plan CDE. America's youth are the lifeblood of agriculture's future and we want to ensure it is in good hands.
The National FFA Marketing Plan CDE helps students practice and sharpen skills in marketing through the development and presentation of a marketing plan. The plan may focus on the introduction of a new agricultural product, supply or service or on improving marketing of an existing product, supply, or service. Each team competed against teams in their state for the privilege of participating in the national event.
The event, held at the Embassy Suites in Indianapolis, is one of many educational activities at the National FFA Convention & Expo in which FFA members practice the lessons taught in agriculture classes.
The National FFA Organization is a national youth organization of 649,355 student members as part of 7,859 local FFA chapters in all 50 states, Puerto Rico and the U.S. Virgin Islands. The FFA mission is to make a positive difference in the lives of students by developing their potential for premier leadership, personal growth and career success through agricultural education. The National FFA Organization operates under a federal charter granted by the 81st United States Congress and it is an integral part of public instruction in agriculture. The U.S. Department of Education provides leadership and helps set direction for FFA as a service to state and local agricultural education programs. For more, visit the National FFA Organization online at FFA.org and on Facebook, Twitter and the official National FFA Organization blog.
The National FFA Foundation builds partnerships with industry, education, government, other foundations and individuals to secure financial resources that recognize FFA member achievements, develop student leaders and support the future of agricultural education. Governed by a 19-member board of trustees comprised of educators, business leaders, individual donors and FFA alumni, the foundation is a separately-registered nonprofit organization. About 82 percent of every dollar received by the foundation supports FFA members and agricultural education opportunities. For more, visit FFA.org/Give.
Pictured (l to r) Mackenzie Huffman, Anna Claire Rucker, Courtney Ruth, and Jason Corman, Bunge-Canada representative