Houston CTE News
Solar Car Receives Donation
Representatives from Natchez Trace Electric Power Association came by and presented a donation from TVA (Tennessee Valley Authority) to Mr. Jay Alford that will be used to help fund the trip to compete in the Dell Winston Solar Car Challenge this summer.
Houston CTE Honored at ICC
Houston CTE students were honored at ICC for their high scores on the CPAS state test. These students received recognition as well as opportunities for scholarships. Congratulations students and instructors for a job well done!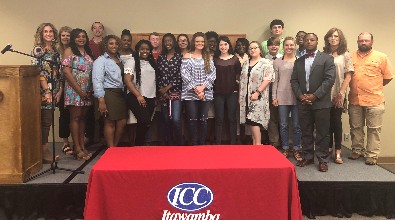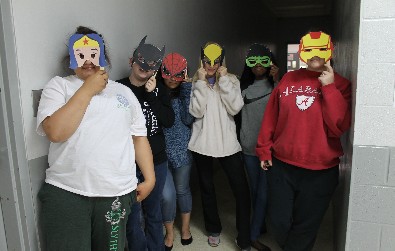 Teachers are getting into the spirit of testing.
Houston CTE Instructors and Staff are trying to inspire students to succeed on the CPAS by having a CPAS spirit week. The idea is to give the kids a smile during crunch time right before the tests, and help them remember to do their best.
A Taste of "The Real World"
"The Real World" came to HCTE on February 13, 2018. Angie Abrams and Erika Cooksey from Mississippi State University Extension Service came Thursday to introduce students to "real world" money issues. During the event students learned to budget money on expenses such as Housing, Transportation, Entertainment, Child Care, and even unexpected expenses. It was amazing how students learned the expense of taxes, and how they wanted to bypass the tax station.
FFA Students Visit the Capitol
Senator Russell Jolly and Representative Preston Sullivan visited with Future Farmers of America from Houston, at the Capitol on Wednesday, February 21, 2018, following their legislative breakfast.

Houlka Students Tour HCTE
Students from Houlka were on campus Tuesday to learn what Houston CTE has to offer. They toured our programs to determine if they would like to attend HCTE next fall. Shown here is Demetria Shephard telling the students about our Engineering and Robotics Program. They also toured Construction (Electricity), Health Science, and Business.
HOSA Students Compete in Orlando, FL
HOSA (Health Occupations Students of America) students from Houston CTE placed 1st at State HOSA Competition. They went to Orlando, FL this summer to compete in the International HOSA Competition. Their skit included a mosquito, a patient, her friend, a nurse, and a doctor who prompted the discussion for the CDC hazard Zika Virus. The students wrote and performed this at the state and national level. Students from left to right: Stacy Gillispe, Lexie Hooks ,Wendy Hillhouse, Caroline Blakenship, and Sharia Moore. These students will receive scholarships as a result of their success.
Farm Safety Day at Houston CTE
Mr. John Hubbard, representative of Farm Bureau Insurance, came to speak to students about farm safety. His presentation included electrical safety, 4-wheeler safety, shop safety, and farm equipment safety. His goal is to present the importance of being safe in the classroom, lab, as well as at home. This goes along well with the safety curriculum in each CTE class. Safety is our top concern!
Houston CTE Women in Science and Technology Conference
ffa members visit capitol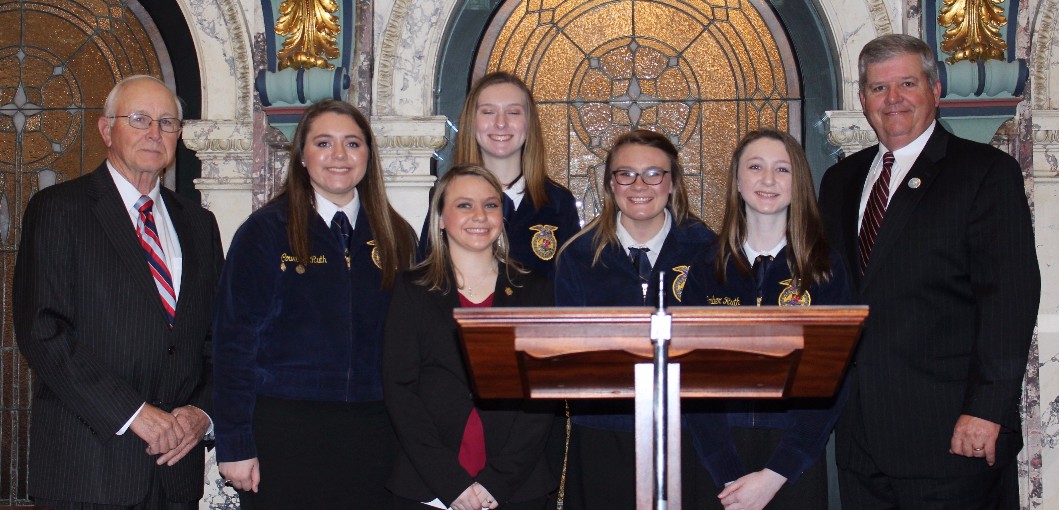 Senator Russell Jolly, (right), and Representative Preston Sullivan, (left), visited with FFA members from Houston at the Capitol on Wednesday, February 22, 2017. Standing left to right are Courtney Ruth, Mackenzie Huffman, Michael Ann Chandler, Amber Ruth and (in front), advisor Shelby Aulds.
Houston Solar Race Team
Promotes Movie Premier

Greg MacGillivray, owner of MacGillivray Freeman Films; Houston High School seniors Hunter Moore and Andrew Mitchell; and Chris Selwood, event director for the Australia Bridgestone World Solar Challenge, attend the early screening of "Dream Big: Engineering Our World."
The Houston Solar Race Team (HSRT) at Houston Career and Technology Education Center (CTE) has made its mark nationally and worldwide. After winning numerous racing titles and being featured on Mississippi Public Broadcasting's Mississippi Roads, the Houston Solar Race Team now has made it to the big screen.
MacGillivray Freeman Films' Dream Big: Engineering Our World opens globally in theatres Feb. 17, 2017. Members of the team are attending movie premiers in four different states to publicize this film that was created in partnership with the American Society of Civil Engineers to promote engineering.
The HSRT has a part in the movie, as solar car races are featured in the film. In fact, the Houston Solar Car will be on display at the Smithsonian in Washington, D.C. this week for the screening.
Keith Reese, HSRT manager, along with students, Hunter Moore and Andrew Mitchell, and team members B.B. Turman, Donna Turman and Anita Ellison were in New York City for the early screening on Feb. 14. They are traveling to Washington D.C. for the global opening at the Smithsonian IMAX theatre Feb. 17.
Other team members and parents will travel to Chattanooga, Tenn., Birmingham, Ala., and Huntsville, Ala., Friday, Feb. 17, to promote this film.
CTE Offers Financial Aid
Parents, do you have a student applying to college? If so, the Houston Career and Technology Education Center (CTE) can help you apply for financial aid.
CTE recently hosted a scholarship/grant workshop. Parents, students and grandparents received information on how to complete the FAFSA in order to receive a Pell Grant (income based) as well as information on how to apply for scholarships (merit based) at the event.
CTE staff is available to help anyone who was unable to attend the workshop. Call (662) 456-3748 to set up an appointment.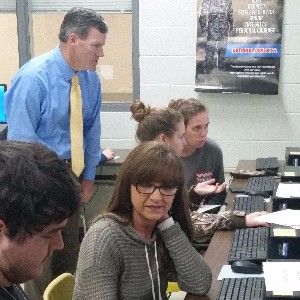 HSD Floats Place in Christmas Parade

Houston CTE Hosts College Day
Houston Career and Technology Education Center (CTE) has a goal to create a college-going culture among its students. As an endeavor to reach this goal, Houston CTE hosts a "College Day" each year to inspire and support students in their pursuit of post-secondary education. Colleges and universities from all over Mississippi were represented at this recent event October 7, at Houston CTE.
Recruiters talked to juniors and seniors about preparing for college, including housing, financial aid, scholarships, and college majors. Students were excited to learn about the different opportunities that await them after high school.
Houston CTE Students Participate in National FFA Marketing Plan Career Development Event
INDIANAPOLIS – Members of the Houston FFA Chapter were one of 31 teams participating in the National FFA Marketing Plan Career Development Event (CDE). The event was held in conjunction with the 89th National FFA
Convention & Expo in Indianapolis. Mackenzie Huffman, Anna Rucker, and Courtney Ruth competed with 90 other members from across the country. The team, led by advisor Karen Cook, was awarded a Bronze emblem.
Members of the top four national winning teams received cash awards to recognize their success in the event. The cash awards and the marketing plan event are sponsored by Bunge North America. Bunge North America takes great pride is sponsoring the Marketing Plan CDE. America's youth are the lifeblood of agriculture's future and we want to ensure it is in good hands.
The National FFA Marketing Plan CDE helps students practice and sharpen skills in marketing through the development and presentation of a marketing plan. The plan may focus on the introduction of a new agricultural product, supply or service or on improving marketing of an existing product, supply, or service. Each team competed against teams in their state for the privilege of participating in the national event.
The event, held at the Embassy Suites in Indianapolis, is one of many educational activities at the National FFA Convention & Expo in which FFA members practice the lessons taught in agriculture classes.
The National FFA Organization is a national youth organization of 649,355 student members as part of 7,859 local FFA chapters in all 50 states, Puerto Rico and the U.S. Virgin Islands. The FFA mission is to make a positive difference in the lives of students by developing their potential for premier leadership, personal growth and career success through agricultural education. The National FFA Organization operates under a federal charter granted by the 81st United States Congress and it is an integral part of public instruction in agriculture. The U.S. Department of Education provides leadership and helps set direction for FFA as a service to state and local agricultural education programs. For more, visit the National FFA Organization online at FFA.org and on Facebook, Twitter and the official National FFA Organization blog.
The National FFA Foundation builds partnerships with industry, education, government, other foundations and individuals to secure financial resources that recognize FFA member achievements, develop student leaders and support the future of agricultural education. Governed by a 19-member board of trustees comprised of educators, business leaders, individual donors and FFA alumni, the foundation is a separately-registered nonprofit organization. About 82 percent of every dollar received by the foundation supports FFA members and agricultural education opportunities. For more, visit FFA.org/Give.
Pictured (l to r) Mackenzie Huffman, Anna Claire Rucker, Courtney Ruth, and Jason Corman, Bunge-Canada representative